These exercises protect your back and neck, and target more of your abdominal muscles than crunches alone.
The abdominals are a pain point for many gym goers. We habitually grab a mat, get down on our backs and start crunching away with the goal of finally carving out those elusive six-pack abs. But is this really the most effective way to work towards a toned midsection? The answer is no.
"When most people are doing crunches, they aren't just wanting a stronger midsection, they're looking for fat loss," says Brian Bott, certified functional strength coach, founder of Aspire Fitness and co-author of "Get With the Program." "When we think about core training, we focus on preventing movement rather than creating it. A lot of back injuries can be attributed to repeated flexing and extending of the spine. This is the exact movement you are doing performing a crunch. Yes, you feel them in your abs, but it's not quite the way your core was designed to work and it comes at the expense of your back."
According to research, crunches are hard on your back, since they "push your curved spine against the floor and work your hip flexors, the muscles that run from the thighs to the lumbar vertebrae in the lower back." When your hip flexors are too tight, they pull on your lower spine, which can cause lower back pain; plus, poorly performed crunches can also put strain on the neck. In addition to the potential for pain, sit-ups and crunches target just a few isolated muscles, and your core goes far beyond just abdominal muscles, so they aren't the most effective use of your time.
The good news: There are many other exercises that not only protect your back and neck, but work more of the core muscles, getting you more bang for your buck. "These exercises focus on getting your spine into a good position and maintaining that while your extremities are moving," says Bott. "Instead of creating the movement, your muscles are working hard against it. Your abs still get a tremendous workout and there's no worries of overuse."
Work your core: Ab exercises that are better than crunches
Exercises listed in order of difficulty.
Dying Bugs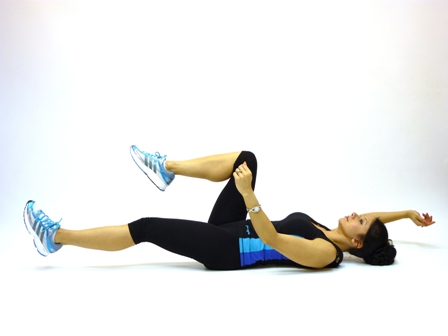 Lie on your back with your arms straight up to the ceiling and your knees and hips bent to 90 degrees. Keeping your rib cage down extend your opposite arm and leg out taking a deep breath out.